Queen Maeve Hikes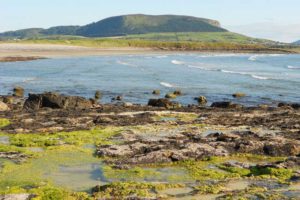 This guided Knocknarea Hike with the Famous Queen Maeve's Grave is an enjoyable walk for anyone with an interested in history, nature or beautiful views and landscapes.
This limestone mountain is 1073 feet. This visually striking mountain is monolithic in appearance and is situated in a prominent position on the Cúil Irra peninsula between the bays of Sligo and Ballisodare. At the Summit of the Knocknarea Hike is Queen Maeve's Grave. This is a mound (or Cairn) of loose stones. These rocks conceal a Neolithic passage. The Cairn is about 55 metres (180feet) wide and 10 metres (33 feet) high, making it the largest such cairn in Ireland outside the Bru Na Boinn. The mound is known as Meascán Méabha and in English Maeve's Grave or Maeve's cairn.
Maeve is a prominent figure in Irish mythology. You will learn more about the famous Queen Maeve from our guides while on our tour. We will also visit an ancient quarry that was used to create the monument. Knocknarea seems to have been a major place of ritual and meeting in the Neolithic era. Hut sites are located all along the eastern side of the mountain.
There are number of passage tombs on top of Knocknarea Mountain but Maeve's Cairn is by far the largest. In General the tombs are lined up North – South and seen to face Carramore tombs down in the land at the foot of the Mountain. Legend has it that Queen Maeve was buried standing up in her battle gear but there are reasons that this may not be true. You will hear the full story and more interesting facts from our guides during the tour.
The area of Sligo bay is rich in pre-historic remains and shares similar monuments and natural shapes. From the knocknarea hike we will also take in views of Croaghan Mountain, Carrowkeel megalithic cemetery, Cairns Hill, the Ox Mountains, and Benbulben. We will also enjoy amazing views of Sligo and its surrounding areas.