Welcome to the fourth annual Sligo Walking Festival 2020. We have a wide variety of exciting new routes and walks for you this year and look forward to meeting walkers old and new. With walks for every level of fitness taking place across the county there is sure to be a walk to suit.
For 2020 the festival will take place from March 20th-22nd with full list of walks and tickets going live in the coming weeks.
Sligo is also renowned for its live music and eclectic sounds lending itself to be the perfect location to kick back and be entertained after a day exploring a hikers dream terrain.
While in Sligo be sure to try out many of our adventure and wellness activities and our wonderful bars, restaurants and cafes.
---
Friday 20th March Day 1
C – Carrowkeel Astrophotography Night Hike
Carrowkeel or 'Ceathramhadh Caol' meaning Narrow Quarter is one of Irelands' finest megalithic cemeteries, overlooking Lough Arrow and along part of the 'Miners Historical Trail'. A well known botanist, Robert Loyd Preager came across numerous incredible megalithic tombs over 100 years ago and decided to excavate some of them, sadly many of these ancient monuments where damaged during this excavation but through the efforts of many locals and historians the site has been restored and this once sacred location is now been explored by thousands each year.
With the sun setting before the hike begins you are guided safely through this ancient landscape under torchlight,
from the beginning this trail will take your breath away. Millions of years ago this hill was part of the sea floor and many marine based fossils can be found underfoot. A huge glacier passed through here shaping and carving the mountain we see today, thousands of years after the ice melted our ancestors used this hill as a place of burial and worship. What they left behind are a serious of incredible tombs and monuments or 'megaliths' where you can crawl inside of and listen to our guides tell the story of their construction and use.
Having had our fill of the ancient times we step back into 2020 with an instructional demonstration of Astrophotography and general Night Photography from Jordan Cummins Photography. Jordan, a Sligo local has accompanied us on many night photo hikes sharing his love of the night sky and night photography with our groups, enjoy some snacks and a hot drink freshly brewed by our guides as Jordan teaches you on how to set up your camera and approach night and sky photography, even when the sky does on play ball Jordan always finds a way to 'light up the night'.
Bus Departs: 19:00   Duration: 3 hours ; 5km.
---
---
Saturday 21st March Day 2
A Walk – Glencar Escarpment
This incredible A Walk will bring us across the top of Dartry mountain range overlooking the picturesque glacial valley that is Glencar, home to the famous Glencar Waterfall, The Devils Chimney, The Swiss valley, Glencarbury Mines and Glencar Lake.
Many who have walked this route refer to it as county Sligo's most beautiful route.
Glencar Waterfall is 15 meters high and is one of the most beautiful in Ireland. This very waterfall inspired the poet W.B Yeats to write his poem "The Stolen Child" as he visited it quite often in his youth. Other unique features along the route include the Swiss Valley, a series of rolling hills that once belonged to the main mountain, hear from our guides how this feature earned its name and how it formed after the last ice age and how the ice created the entire Glencar Valley we see today.
This walk will also bring you to the Devils Chimney Waterfall which is found above Glencar. The Devil's Chimney is a large separation of the mountain that of course looks like a chimney, it claims the rights of been Irelands highest water fall and in the right conditions the wind pushes the water back uphill into a spectacular showery display.
A stop at the old mining site of Glencarbury will take you back to the baryte mining days that took place here for over one hundred years. Thousands of Sligo men made the daily climb to this site over the years to mine the barytes that were shipped all over the world, visit the abandoned buildings and workings of the mine while our guides tell you the story behind this exposed mountain top work site.
Bus Departs: 8.00am.   Duration: 6-7 hours; approx. 12km.
B Walk – Benbulben
Benbulben is perhaps one of Irelands best knowing mountains and is located to the north of Sligo town and is part of the Dartry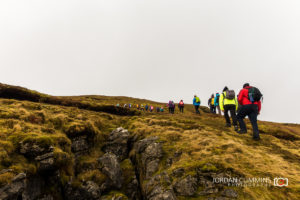 Mountains in the Northwest of Ireland. Benbulben's famous shape was carved as a result of the various responses to erosion of the limestone and shale of which the mountain is formed. A picturesque blanket bog trail leads us below the sheer cliff faces of the iconic tabletop mountain before beginning our journey to the summit where we will be rewarded with panoramic views of the Wild Atlantic Way, the Ox Mountains, the Dartry Mountains Sligo and Strandhill bay's and much more.
Originally Benbulben was only a large ridge but as the giant glaciers moved, they carved the landscape leaving us with the wonder we see today. It is also steeped in legend. It takes its name from Conall Gulban, son of Niall of the nine hostages, who was fostered here.
There are also ancient myths of Fionn Mac Cumhaill and Diarmad o' Duibhne and the Fianna who were a band of warriors that lived in this area in the third century. You will learn more about the history of Benbulben and the surrounding areas form our guides as you enjoy your challenging hike up the most westerly summit of the Dartry mountain range.
Benbulben hosts a unique variety of plants, possessing some organisms that cannot be found anywhere else in Ireland, some of these plants' pre-date the ice age. Many are arctic alpine plants, due to the mountain's height and proximity to the Atlantic which gives the plants cooler temperatures than are normal to the area. Many types of insects, foxes, deer and wild hares also inhabit the area.
Sligo is known as Yeats country after the late great poet, William Butler Yeats who was born here and is also buried at the foot of the magnificent Benbulben. This hike is one of a kind. Our guides will supply you with an information packed and challenging hike that you will never forget.
Bus Departs: 8am. Duration: 3-4 hours; 10km
C Walk – Streedagh Armada Walk with Seatrails
Join us along this stretch of the Wild Atlantic Way if you want to get a blast of fresh sea air, see some ancient fossils, flora and hear all about the hugely famous story of the ill-fated fleet of the mighty Spanish Armada. In 1588, King Phillip II of Spain had ordered over 130 ships to sail from the port of La Corunna for England with the intention to invade. The attempt failed miserably. On a desperate attempt to flee to Spain, over twenty-five Spanish ships became wrecked off Ireland's coast. Three of them were wrecked at Streedagh.
We'll tell you the miraculous escape story of one of the Captains, Captain Francisco De Cúellar who survived brutal treatment when he was washed to shore and had to watch his comrades die. He was aided by Gaelic Irish chieftains and made it back to Spain one year later. He wrote a letter telling of his experiences. It is a fascinating account!
We will meet you at the Spanish Armada Memorial Monument close to Streedagh. We'll visit an ancient tomb hidden in the dunes and you'll discover 330 million year old fossilised seabed on the rocks where the waves sometimes rumble in. Enjoy stunning views to Inishmurray Island and Donegal Bay. It doesn't get any more Wild Atlantic Way than this.
Bus Departs: 9.30am.   Duration: 2-3 hours; approx. 14km. 
Saturday 21st March Day 2
C walk – Sligo Town Tour
Join us for an evening Sligo town tour with local historian Adrian O'Neill of Sligo Heritage and History Club, as he guides you through Sligo's turbulent and storied past. Learn about everything from epic battles, to old legends, to writers and the Sligo they knew that inspired them and much, much more. Following the walk we will enjoy tea and coffee at the Riverside Hotel.
Departs: 7pm Duration: 1.5 hours
---
---
Sunday 22nd March Day 3
A Walk – The Royal Peaks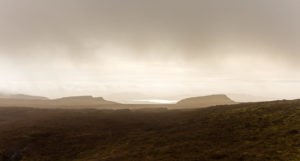 This is one for the seasoned hikers. On this hike we will traverse the Dartry Mountain range and some of Sligo's most iconic Mountains.The order of the day will be Kings Mountain, Benbulben and Benwisken. The route is challenging but well worth it to claim bragging rights of visiting some of Sligo's most breath-taking summits. You will be rewarded with views that span from Glencar Valley back into Sligo Town, The Gleniff Horseshoe, Donegal and Sligo Bay and the wider Wild Atlantic Way, and much more.
Bus Departs: 8.30am.   Duration: 6-7 hours; approx. 15km.
B Walk – Benwisken
Benwisken or 'The Breaking Wave' is situated in the middle of the Darty Mountain range flanked to the north by Truskmore and Benbulben to the south. The Breaking Wave nick name comes from the mountains unique shape when seen from the north, resembling the shape a huge breaking wave, the wide flat plateau of the summit narrows down to a spectacular knife edge spur where the land dramatically drops away on all sides, sure to invigorate the senses of those who dare explore beyond the summit of this limestone wonder.
Our route begins from the flat open blanket bog lowlands of the range and we ascend the ancient slopes passing falling springs and mountain wildlife along our way to the plateau, from here walkers get their first look over the stunning Gleniff Horseshoe, a landscape carved by huge walls of ice during our last ice age.
We continue on our way to Benwisken along a gentle uphill slope with views to Benbulben and Truskmore on both sides, as we approach the summit walkers can get a glimpse of the famous cave of Diarmad and Grainne, hear from our guides how this cave steeped in mythology and how this is also Ireland's highest cave, from this view point walkers can appreciate the true steepness of its entry route.
Arriving at the summit hikers are treated to breathtaking views over Donegal Bay, Benbulben and Streedagh, Mullaghmore, Truskmore and the
extending Darty Mountains, from this vantage point the Glenniff Horseshoe shows it's true glacial corrie shape, the finest view however lays beneath your feet as the dramatic sheer face of Benwisken can be seen only meters from the summit.
When the obligatory selfies have been talking we back track along our path towards the cliffs of Annacoona Top perhaps better knowing to locals as the back wall of the Gleniff Horseshoe, we pass and visit a feature knowing as 'The Cauldron' a massive failure in the side of the mountain caused by ice, rest in the Cauldrons shelter and learn from our guides how this and the entire valley formed during the ice age before continuing to the highest point on the cliff face Annacoona Top where our guides can safely allow those who dare to peer over the edge, signs of mining activity can also be seen at this part of the hike.
A truly stunning hike sure to leave those taking part with a sense of achievement and hopefully a few stories and snaps to share.
Bus Departs – 8.30 am Duration 4-5 hours approx 10km
C Hike – Knocknarea & Mammy Johnston's 
The hike will take us from the south side of Knocknarea up and over the mountain and onward through a section of the Killaspugbrone trail which runs to
Strandhill village through the dunes from the foot of the Queen Maeves Trail. Our route finishes in Mammy Johnsons will where we will enjoy a hot drink and treat to finish our day.
You will be lead by expert guides as we make our way through this ancient mythical landscape. Learn all about Queen Maeve and the ancient myths that surround her and this area as well as how Knocknarea got its unique shape. A perfect chilled out finish to an exhilarating weekend.
This is one of Sligo's most iconic landmarks. This tomb topped mountain sits above the seaside village of Strandhill on the Coolera Peninsula. The summit is crowned with Queen Maeves Cairn which was built around 3400BC from where she rests on her feet spear in hand awaiting any challenge from her enemies to the north. From the ancient tomb we will enjoy 360 degree views of Sligo town and bay under a moonlit sky. This makes the challenging uphill trek and lovely coastal walk across the sand dunes more than worth the effort.
You will be lead by expert guides as we make our way through this ancient mythical landscape. Learn all about Queen Maeve and the ancient myths that surround her and this area as well as how Knocknarea got its unique shape. A perfect chilled out finish to an exhilarating weekend.
Bus Departs: 9.30am Duration: 2.5 hours; approx. 9km.
We have a no refund policy from Monday 16th March 2020